Streamline ESL HPQ LO - Low Odour - Series 440ml Cartridges
Short Description
Streamline ESL HPQ LO - Low Odour - Series 440ml Cartridges are a solvent based inks for the Roland range of inkjet printers.
To Switch to Streamline Inks from Sun Chemical - Contact one of our sales team today!


Scroll down for more information.
Product Details
Streamline ESL HPQ LO - Low Odour - Series 440ml Cartridges
Sun Chemical Celebrating 200 Years in Colour Expertise
Sun Chemical Streamline ESL HPQ LO - Low Odour - Series 440ml Cartridges are a solvent based inks for the Roland range of inkjet printers. Many inkjet printers have already realised the advantages of switching from Roland OEM inks across to the Streamline ESL HPQ range of inks from Sun Chemical and with the latest low odour inks being launched onto the market in Autumn 2014, even more customers will profit by choosing Streamline inks. Throughout 2014, the trend of new businesses offering signage, display banners and posters continues to grow. Many new print customers investing in a new wide format inkjet printer are working from office environments. This new breed of customers are resetting expectations for low odour printing without compromising print quality and print speed. Historically, low odour inks would sacrifice overall print performance but with the new Streamline ESL HPQ LO inks, Roland customers can expect the highest print quality and speed from some of the lowest odour solvent inks in the market. The NEW Streamline ESL HPQ LO (low odour) ink range has been designed for use in solvent based wide format printers. This includes everything from photo labs, digital print shops, exhibition printers, graphic art bureaus, sign shops, screen printers to repro houses and commercial printers.The NEW Streamline ESL HPQ LO has excellent adhesion to a very wide range of media which is commonly used in the sign and graphic markets.
Sun Chemical Inks are Greenguard Gold and Greenguard Standard certified for low chemical emissions in the workplace.
Up to 54% savings on ink costs
Streamline ESL HPQ LO has been carefully matched to original products for both colour shade and strength
Suitable for Roland Soljet Pro II series, Roland Versacam SP300-500, Mutoh Rockhopper II, Mutoh Falcon II, Mutoh Valujet, Mutoh Spitfire, and Wide Format printers with Epson 10000DX4 or DX5 print heads, Agfa Grand Sherpa and Uniform Range
Engineering support is available to support all ink conversions
Full range of inks for most wide format printers
Widest possible colour gamut
Use existing profiles if you are using original inks
Easy ink conversion
Backed up by reliable engineer support if required
*Compatible only with original inks
Suitable for Roland Pro 2 and Pro 3 series machines using eco sol max ink.
---
Engineering support is available to support all ink conversions. Walsh Graphics has a fully Qualified Engineer and on-site support service available in partnership with Alan Keane of Ask Networks Ltd.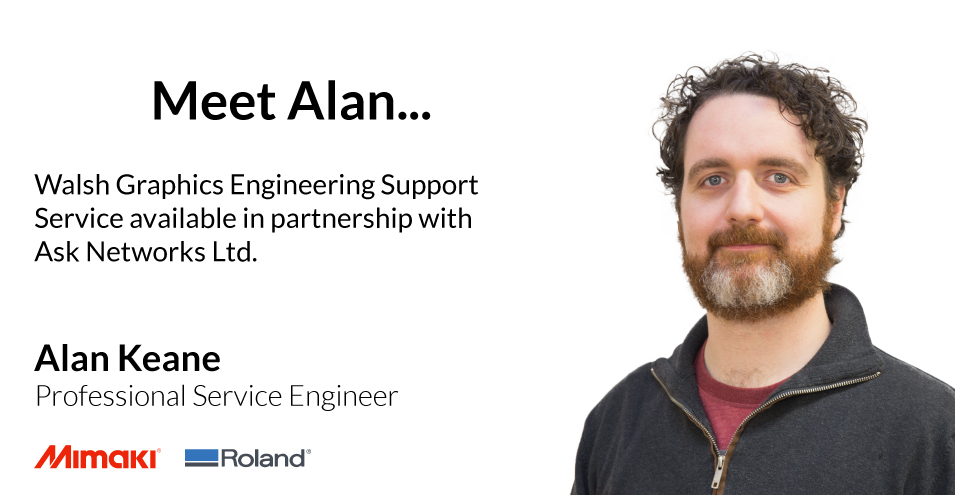 You can start enjoying cost reductions immediately by mixing Streamline ESL HPQ LO ink with your eco sol max version ink for Roland. However if you wish for greater assurance, we can provide a fully qualified engineer to make an assisted changeover to Sun Chemical Streamline Inks. Our engineer will provide a health check report and sample prints from your machine both before and after the change-over to ensure your complete satisfaction.
*Note: The changeover from non-original inks to Sun Chemical Streamline should be performed by a qualified engineer.
Delivery Info
UK Deliveries
Our delivery charges to anywhere in the UK are:
Free delivery on orders over £315.00 ex vat & ex shipping

£12.90 for orders up to £315 ex vat
Transit time: 5 - 7 Working Days
We cannot guarantee an exact delivery schedule but will do our best to help if you have a specific request. Contact us at sales@walshgraphics.ie.
Deliveries to Mainland Europe:
Transit Time:
3 - 4 days: Belgium, France, Germany, Luxenburg, Netherlands.
4 - 6 days: Austria, Czech Republic, Denmark, Italy, Slovakia, Spain.
5 - 8 days: Estonia, Finland, Hungary, Latvia, Lithuania, Poland, Portugal, Slovenia, Sweden.
Deliveries to: Switzerland, Liechenstein, Croatia, Bosnia, Norway, Serbia and Montenegro.
From £50.00 (includes Custom Clearance Charge)
Transit Time:
4 - 5 days: Switzerland, Liechenstein.
5 - 8 days: Croatia, Bosnia, Norway, Serbia and Montenegro.
Rest of the World: Please contact us to confirm shipping cost.
* It is the customers responsibility to pay any Duty & VAT owing on shipments
Damages
Any loss, damage or shortages must be reported to us within 24 hours of delivery. Please quote your order number in all correspondence.
Please ensure the goods are checked upon arrival before signing (or goods are signed for as unchecked). Any claims made as a result of courier damage cannot be pursued if this procedure is not followed.
We will not be liable for any damage to goods returned to us via another courier if goods have not been checked upon receipt from us and reported immediately.
In the case of receiving damaged goods, these must be signed for upon delivery as "Unchecked" or "Damaged" in order to process a claim.
Backorders
If for any reason we are unable to fulfil your order, or part of your order, we will contact you with details of anticipated delivery dates and an option to cancel your order if you would rather not wait.